Promoting Effective Erosion Control and Storm Water Management
Created in 1988, MECA  strives to communicate erosion and sediment control techniques and practices and encourage the use of those practices and actively promotes new and innovative storm water management practices.  We are an organization comprised of suppliers, engineers and government agencies.
MECA Summer Newsletter Click Here:  Summer 2014 MECA Newsletter
MECA 2015 ANNUAL CONFERENCE – Mark Your Calendar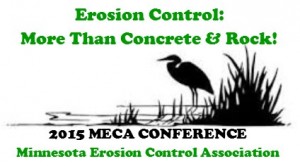 Duluth Entertainment Convention Center, Duluth MN
Registration Materials will be available soon!
Tuesday March 10, 2015 – Pre-Conference
Wednesday March 11th & Thursday March 12th, 2014 – Conference
UPCOMING EVENTS
MS4 Permit Workshop
Click here for the attendee registration form:  MS4 Registration for all classes
Covering Minimum Control Measures (Except #5)  This workshop qualifies as a way to meet the IDDE Field Staff training requirement for Part III.D.6g(2), in illicit discharge recognition and reporting illicit discharges for future investigation.
The Minnesota Erosion Control Association (MECA) in partnership with the MPCA is offering this MS4 outreach/educational workshop in five locations!
St. Paul, MN—November 13, 2014  NEW LOCATION:  Stantec Offices, 2335 Highway 36 West, St. Paul MN  55113
Mankato, MN—December 2, 2014
Workshop will also be offered in Duluth MN at the MECA Conference in March 2015.
MECA Office:
Address: 600 4th Street North, Cold Spring, MN  56320 Office: (320) 685-5444   Fax: (320) 685-4592.  Contact: Ruth Kraemer, MECA Administrator