Promoting Effective Erosion Control and Storm Water Management
Created in 1988, MECA  strives to communicate erosion and sediment control techniques and practices and encourage the use of those practices and actively promotes new and innovative storm water management practices.  We are an organization comprised of suppliers, engineers and government agencies.
MECA 2015 ANNUAL CONFERENCE – Register Now!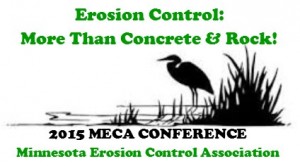 Duluth Entertainment Convention Center, Duluth MN
Pre-Conference:  Tuesday 3/10/15
Conference  March 11 & 12th, 2015
Over 15 Educational Opportunities!  Large Exhibitor Trade Show!
Click here to view the  2015 MECA Conference Schedule
Keynote Speaker Stevie Famulari   As a practitioner, researcher, business owner of Engaging Green and Professor of Landscape Architecture at North Dakota State University. Stevie will bring a fresh perspective to erosion control!
REGISTRATION:
Click here to print and mail conference registration forms. 2015 MECA Conference Registration Form
Click here to register on line.

2015 Memorial Scholarship Application Form
MECA awards a $500 Scholarship each year to a student that has the intent to complete an engineering or science degree.  Just click here for the application form:  MECA Scholarship 2015
2015 MECA Awards
Each year MECA recognizes outstanding individuals and projects.  Awards will be presented at the MECA 2015 Conference on March 12, 2015.  If you know of a person or project that deserves recognition, we welcome you to submit a nomination form to the MECA office.  Please click here for the nomination form:  2015 MECA Award Nominations
2015 MECA Photo Contest
MECA is excited to add a photo contest to this year's annual MECA 2015 Conference.  This is a great opportunity to gain visibility and share your accomplishments with the erosion and stormwater management industry.  Please click here for more information:  2015 MECA Photo Contest
MECA Office:
Address: 600 4th Street North, Cold Spring, MN  56320 Office: (320) 685-5444   Fax: (320) 685-4592.  Contact: Ruth Kraemer, MECA Administrator
 MECA Fall Newsletter Click Here:  Fall 2014 MECA Newsletter