Promoting Effective Erosion Control and Storm Water Management
Created in 1988, MECA  strives to communicate erosion and sediment control techniques and practices, Preview Changes
and encourage the use of those practices.  MECA also actively promotes new and innovative storm water management practices.
We are an organization comprised of contractors, suppliers, engineers and government agencies.
Registration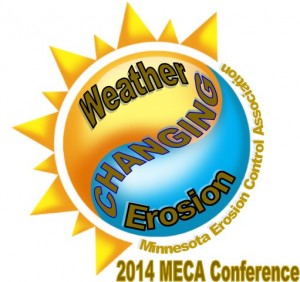 is now open for the
MECA 2014 Erosion Control & Stormwater
Management Conference and Trade Show
March 4, 2014  Pre-Conference Workshop
March 5th – March 6, 2014 Conference
Mystic Lake Conference Center, Prior Lake MN
Over 14 Educational Breakouts – Great Exhibitors – Don Shelby Keynote Speaker
Click here for conference schedule:  MECA 2014 Conference and Pre Conference Schedule
Click here to download registration forms:  2014 MECA Conference Registration Form
Click here for on-line registration: https://www.regonline.com/the26thannualerosioncontrolstormwatermana_1357380
Click here for 2014 Scholarship Form:  MECA Scholarship 2014
Click here to 2014 Awards Nomination Form:  2014 MECA Award Nominations
Click here 2013 Fall Newsletter:  Fall 2013 MECA Newsletter
UPCOMING EVENTS
One Day Stormwater & Erosion Control Seminar for SMALL Sites  – This event was cancelled due to weather, and will be rescheduled for January 2014  at the Northern Lights Casino & Event Center, Walker MN
Learn about the NEW, MANDATORY Cass County ordinance REQUIRING pre, during and post construction erosion control plans.  Click here for the Seminar Information: Walker MN Dec 4 2013 Attendee Form
Many workshops are available – select WORKSHOPS from the top menu – GREAT EDUCATIONAL OPPORTUNITIES!
MECA Office: Address: 600 4th Street North, Cold Spring, MN  56320 Office: (320) 685-5444   Fax: (320) 685-4592.  Contact: Ruth Kraemer, MECA Administrator