MECA Scholarships
Charlie Parnell Memorial Scholarships
The Charlie Parnell Memorial Scholarship was established by the Minnesota Erosion Control Association (MECA) in 2007 to recognize the outstanding work and enthusiasm Charlie Parnell contributed to the erosion and sediment control and stormwater field. MECA wishes to award this $500 scholarship to an individual who wants to pursue an engineering or science degree with an emphasis on erosion and sediment control or stormwater management.
MECA accepts scholarship applications in the fall.
To apply, please download the application form and send it to the MECA office by January 15, 2014.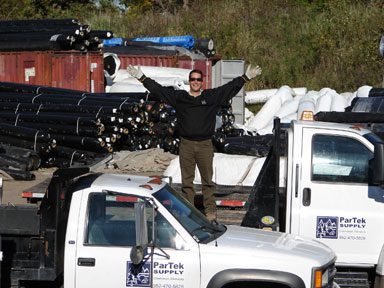 Charlie Parnell Memorial Scholarship Recipients:
2008 – Micah Meyer, University of Minnesota, Crookston    Natural Resources
2009 – Catherine Bach, University of Minnesota, Twin Cities    Environmental Sciences, Policy & Management
2010 – Heather Herrig, University of Minnesota, Crookston    Natural Resource Management & Communications
2011 – Scott Mitchell, University of Minnesota, Twin Cities    Environmental Science Policy and Management
2012– Taylor Hoffman, University of Minnesota, Twin Cities   Bioproducts and Biosystems Engineering
2014– Jennifer Soltys, University of Minnesota, Twin Cities  Ecological Engineering
2015– Cody Ritt, North Dakota State University (NDSU), Civil & Environmental Engineering
In Memory of Charlie Parnell
By Rick Kruger and Dan Larsen
Remember the date. July 12, 2006. Maybe not a 9/11 or a December 7, but a significant date within our industry. For 7/12 is the date we lost a friend, Charlie Parnell, founder of Partek Supply. Our subset of population in the Upper Midwest has several notable leaders-Charlie was one of them.
Although, in Charlie's case, "notable" would be an understatement. His laugh and smile were infectious and engaging. The combination of the two was powerful and very effective on all he communicated with. Contractors and engineers a-like had no defense for this one-two punch. To me, Charlie was a "what if" guy. While most of us accept the norm as being pretty darn good, Charlie would ask "What if?" "What does the customer want that is different, yet better?" "What can I do over here that will save him time and money over there?" There was no scenario Charlie would not give his best effort to find a more logical solution, and he often did.
He thought, he challenged, he succeeded. Charlie knew what the true meaning of "Thinking outside the Box" was.
But, the bacterial infection was too much, even for a man as strong as Charlie. Our industry has lost a great one, but his legacy will live on.
Remember the date. Remember Charlie.